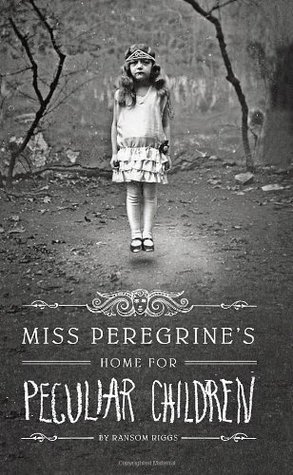 Release date:
June 7 2011
First book in a series
A mysterious island. An abandoned orphanage. A strange collection of very curious photographs.

It all waits to be discovered in Miss Peregrine's Home for Peculiar Children, an unforgettable novel that mixes fiction and photography in a thrilling reading experience. As our story opens, a horrific family tragedy sets sixteen-year-old Jacob journeying to a remote island off the coast of Wales, where he discovers the crumbling ruins of Miss Peregrine's Home for Peculiar Children. As Jacob explores its abandoned bedrooms and hallways, it becomes clear that the children were more than just peculiar. They may have been dangerous. They may have been quarantined on a deserted island for good reason. And somehow—impossible though it seems—they may still be alive.

A spine-tingling fantasy illustrated with haunting vintage photography, Miss Peregrine's Home for Peculiar Children will delight adults, teens, and anyone who relishes an adventure in the shadows.
First of all, I went into this book with a very different idea of what this book was going to be about. This is my fault because I didn't realize I'd never actually read a summary of the book. I'd heard so much about it, everything about the pictures of course, and thought I knew what to expect. In my mind this book was a creepy, sort of horror book that was set in the past. This resulted in me being a little confused for the first couple of pages because the books starts out in modern Florida.
Something that has to be said about this book is that the design is beautiful. I own the paperback version and it's such a sturdy book. The paper feels a lot nicer and is less likely to rip than that of most other books I own. The cover fits the book perfectly and gives it the creepy vibes that attracted me to this book in the first place. Then the book is filled with antique pictures that sometimes give you an image of what a character looks like, and sometimes are just plain creepy.
There's a lot of different characters in this novel. From Jacob's best, and only, friend who has green hair to his snobby mother to a kid who is invisible. Jacob himself comes over like a real person and react to the situations in a way that's reasonable and realistic. My favorite characters were definitely the peculiar children because of how they really acted like children. They asked lots of question when they weren't supposed to and used their abilities in ways that weren't always responsible. Sadly we didn't get to know most of them that well so I hope we'll learn more about them in the sequel.
Although the main focus of this book is definitely on the plot and the setting it did make me think. These kids are in a loop where they repeat the same day over and over again. Jacob has to decide whether or not he wants to stay. It made me think what I would do in his position. Would I be able to handle going through the same day in the same place again and again, even if I would be happy there?
There were two things I didn't really like about the book. The first one isn't that important, but the chapters are huge. There's 352 pages and only 11 chapters. This way I can't be like: "I'll just read one chapter before doing this or that". The other thing that made me feel a little awkward was the beginning romance between Jacob and Emma. Everything is all fine until you remember that Emma used to be the girlfriend of Jacob's grandfather...
I am pretty sure this book classifies as young adult but to me it felt a lot more like a middle grade book. There's nothing wrong with that because there are tons of middle grade books I love, but if you don't like those kind of books these may not be for you. Because apart from some gruesomely described scenes I don't think there's anything in the book that I would say is too mature for younger readers.
All in all I really enjoyed this book and am really curious about what will happen to Jacob and his friends in Hollow City. I gave it 4 out of 5 stars and would definitely recommend it. Even if it's just to find out what everyone's been talking about.
Side note: I found a reference to John Green's papertowns.
"Left at the multiethnic roof Santas!" (page 32)